Page 3 - Amarillo Senior Link Magazine Summer 2021 - Online Magazine
P. 3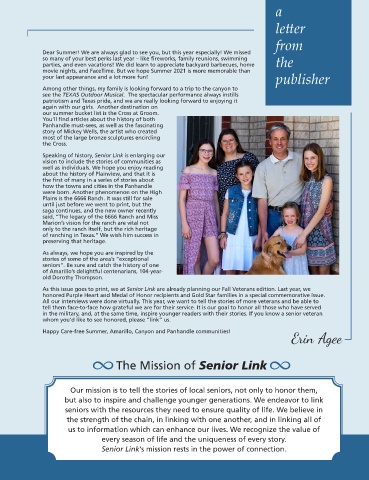 a

                                                                                           letter

                                                                                           from

               Dear Summer! We are always glad to see you, but this year especially! We missed
               so many of your best perks last year – like fireworks, family reunions, swimming   the
               parties, and even vacations! We did learn to appreciate backyard barbecues, home
               movie nights, and FaceTime. But we hope Summer 2021 is more memorable than
               your last appearance and a lot more fun!                                    publisher
               Among other things, my family is looking forward to a trip to the canyon to
               see the TEXAS Outdoor Musical.  The spectacular performance always instills
               patriotism and Texas pride, and we are really looking forward to enjoying it
               again with our girls.  Another destination on
               our summer bucket list is the Cross at Groom.
               You'll find articles about the history of both
               Panhandle must-sees, as well as the fascinating
               story of Mickey Wells, the artist who created
               most of the large bronze sculptures encircling
               the Cross.
               Speaking of history, Senior Link is enlarging our
               vision to include the stories of communities as
               well as individuals. We hope you enjoy reading
               about the history of Plainview, and that it is
               the first of many in a series of stories about
               how the towns and cities in the Panhandle
               were born. Another phenomenon on the High
               Plains is the 6666 Ranch. It was still for sale
               until just before we went to print, but the
               saga continues, and the new owner recently
               said, "The legacy of the 6666 Ranch and Miss
               Marion's vision for the ranch are vital not
               only to the ranch itself, but the rich heritage
               of ranching in Texas." We wish him success in
               preserving that heritage.

               As always, we hope you are inspired by the
               stories of some of the area's "exceptional
               seniors". Be sure and catch the history of one
               of Amarillo's delightful centenarians, 104-year-
               old Dorothy Thompson.
               As this issue goes to print, we at Senior Link are already planning our Fall Veterans edition. Last year, we
               honored Purple Heart and Medal of Honor recipients and Gold Star families in a special commemorative issue.
               All our interviews were done virtually. This year, we want to tell the stories of more veterans and be able to
               tell them face-to-face how grateful we are for their service. It is our goal to honor all those who have served
               in the military, and, at the same time, inspire younger readers with their stories. If you know a senior veteran
               whom you'd like to see honored, please "link" us.

               Happy Care-free Summer, Amarillo, Canyon and Panhandle communities!
                                                                                                Erin Agee



                                       The Mission of Senior Link




                        Our mission is to tell the stories of local seniors, not only to honor them,
                      but also to inspire and challenge younger generations. We endeavor to link
                      seniors with the resources they need to ensure quality of life. We believe in
                       the strength of the chain, in linking with one another, and in linking all of
                       us to information which can enhance our lives. We recognize the value of
                                  every season of life and the uniqueness of every story.
                                  Senior Link's mission rests in the power of connection.